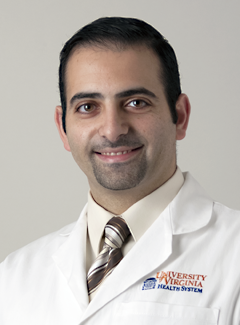 Amer Beitinjaneh, MD, MS, MPH, FACP
Practice Area: Cancer
Department:
Medicine
Division: Hematology/Oncology
Title: Assistant Professor
ABMS Certification: Internal Medicine; Medical Oncology; Hematology
Contact Information
Primary Location:
Emily Couric Clinical Cancer Center
1240 Lee St.
Charlottesville, VA 22903
Phone: 434.982.6406 | Fax: 434.243.0064
Biography
Dr. Amer Beitinjaneh is an assistant professor of medicine at UVA School of Medicine. He also serves as the medical director for Stem Cell Transplant unit and for the Stem Cell Apheresis facility.
Dr. Beitinjaneh received his MD from the University of Tichreen and his masters in Public Health from University of Nevada with a focus on cancer epidemiology. He also received a Master of Science in Clinical Research from the University of Virginia. He completed his fellowship in hematology/oncology at the University of Minnesota and a stem cell transplant and cellular therapy fellowship at MD Anderson Cancer Center, the largest cancer center in the country.
Dr. Beitinjaneh's research interests are in novel therapeutic approaches for aggressive lymphomas and leukemia, including stem cell transplant, targeted agents and immunotherapeutic. He is also interested in managing the long term effect of stem cell transplant and cancer survivorship.
For years he has been named to Top Doctors in America and America's Best Doctors. He was also awarded a fellowship designation from the American College of Physician Society. He participates regularly in national and international programs devoted to research in stem cell transplantation, lymphoma and hematologic malignancies.
Awards
2014 AcademicKeys Who's Who in Medicine Higher Education
2010 Fellow of American College of Physician American College of Physician
2007, 2011 America's Top Internal Medicine Physicians
2010 America's Top Oncologist
2009 ASCO Travel Award for Best Abstract
2007 Phi Kappa Phi from University of Nevada
Publications