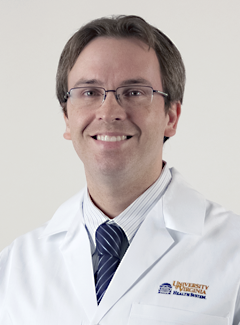 Christopher A. Campbell, MD
Practice Area: Cancer, Plastic Surgery
Department:
Plastic and Maxillofacial Surgery
Division: General Plastic and Maxillofacial Surgery Appointment
Title: Assistant Professor
ABMS Certification: Plastic Surgery
Contact Information
Primary Location:
Breast Care Center
Suite 1101
1300 Jefferson Park Ave.
Charlottesville, VA 22903
Phone: 434.924.8116 | Fax: 434.924.1333
Biography
Dr. Campbell currently has a general reconstructive and cosmetic plastic surgery practice. He specializes in microsurgical reconstruction of the breast, head and neck, trunk and extremities after cancer treatment or trauma, as well as cosmetic procedures for the breast and abdomen. His research interests include mesenchymal stem cell physiology, the impact of radiation on wound healing, patient outcomes after cancer reconstruction and the development of new microsurgery perforator flap techniques.
Awards
2015 Bedside Manner Award, Our Health Magazine; Third place