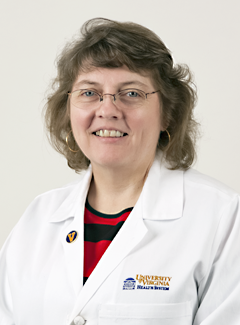 Diane E Pappas, MD
Practice Area: Children's, Primary Care
Department:
Pediatrics
Division: General Pediatrics
Title: Associate Professor of Pediatrics, CF, Director of Child Advocacy
ABMS Certification: General Pediatrics, 1994, Recertification 2008
Contact Information
Primary Location:
Orange Pediatrics
Orange Medical Center
Suite A
661 University Ln.
Orange, VA 22960
Phone:
540.661.3025
Biography
Dr. Pappas was born and raised in Charlottesville, Virginia. She obtained her B.S. degree from the College of William and Mary. She obtained a law degree from the University of Virginia, and then obtained her medical degree from the Medical College of Virginia, where she also completed her residency training in pediatrics. She has been a member of the University of Virginia pediatric faculty since 1995. Dr. Pappas is also Medical Director of the UVA Child Health Advocacy Program (Medical-Legal Partnership), which seeks to connect families with legal aid services when needed. She is also the Medical Director of the Blue Ridge Care Connection for Children, a state agency which provides care coordination services to children with special health care needs. She is active in the community and in the Virginia Chapter, American Academy of Pediatrics. When she is not working, she enjoys travel, reading, cooking, and spending time with her family.
Awards
Pediatric Infectious Diseases Society Burtis Burr Breese Award, 2011
VA Chapter, American Academy of Pediatrics Child Advocacy Award, 2009
Publications