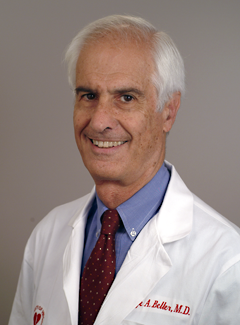 George A Beller, MD
Practice Area: Heart and Vascular
Department:
Medicine
Division: Cardiovascular Medicine
Title: Professor of Internal Medicine
ABMS Certification: Internal Medicine, Active; Cardiovascular Disease, Active
Contact Information
Primary Location:
Heart and Vascular Center
Second Floor
1215 Lee St.
Charlottesville, VA 22908
Phone: 434.243.1000 | Fax: 434.982.1998
Biography
George A. Beller, MD, has more than 30 years of experience as a distinguished cardiologist. He is board certified in internal medicine, cardiovascular disease and nuclear cardiology. He specializes in nuclear cardiology/stress testing, general cardiology and chest pain evaluation. Dr. Beller's clinical interests also include lipids, which are important in the development of atherosclerosis, a major risk factor for vascular disease.
Dr. Beller is recognized nationally and internationally as a leader in cardiology and has shared his research and experience through more than 200 invited lectures and by authoring or co-authoring more than 400 peer-reviewed journal publications, several textbooks and more than 300 scientific abstracts.
He has been principal investigator or co-principal investigator on clinical trials in the field of nuclear cardiology, with emphasis on developing noninvasive techniques for detecting coronary artery disease and assessing prognosis and heart muscle viability.
He is the recipient of the Distinguished Achievement Award and the James B. Herrick Award from the American Heart Association and the Lifetime Achievement Award from the Paul Dudley White Society of Massachusetts General Hospital. He served as chief of UVA's Division of Cardiovascular Medicine for 27 years.
Awards
2012, 2011 Best Doctors in America® List