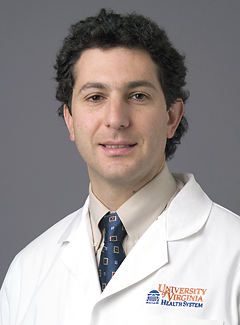 Biography
William Jeffrey Elias was born in Durham, North Carolina, in 1968. He grew up in Roanoke as the son of a neurologist. He attended Wake Forest University and pursued a bachelor of Arts degree in chemistry while also playing junior varsity tennis. While in college, he was awarded a scholarship for undergraduate research in chemistry and he graduated Phi Beta Kappa. He attended the University of Virginia for medical school and neurosurgical training. During neurosurgery, he completed intramural fellowships in neuropathology and spinal surgery before spending a year in Plymouth, England, as a senior registrar. Following residency, he pursued additional training in stereotactic and functional neurosurgery at the Oregon Health Sciences University.
In 2002, Dr. Elias returned to the University of Virginia where he is currently the Director of Stereotactic and Functional Neurosurgery with a large multidisciplinary program in the surgical treatment of movement disorders, epilepsy and spasticity. For this, he was awarded the School of Medicine's Excellence in Clinical Medicine Award. His clinical practice includes peripheral nerve surgery, brain mapping and surgery for spinal trauma. He was selected to Best Doctors in America in 2007, 2009, 2010, 2011, 2012 and 2013.
Scientifically, Dr. Elias is pursuing research projects that match his clinical interests in movement disorders and epilepsy surgery. His clinical research involves the use of MR-guided focused ultrasound for the treatment of movement disorders such as essential tremor and Parkinson's disease. In the laboratory, he is studying the use of focused ultrasound to modulate the central nervous system and to map deep brain targets.
Academically, he serves on the editorial board of the Journal of Neurosurgery and on the Board of Directors of the American Society of Stereostatic and Functionional Neurosurgery.
Dr. Elias is actively involved in research and educational collaborations with the surgical neurology branch of NIH, and he serves as the on site program director at the University of Virginia for the NIH Neurosurgical Training Program.
Dr. Elias has been featured on a variety of mediums: TEDx charlottesville, ABC news with Diane Sawyer and BBC.
Awards
2014, 2013, 2012, 2011 Best Doctors in America® List
Publications