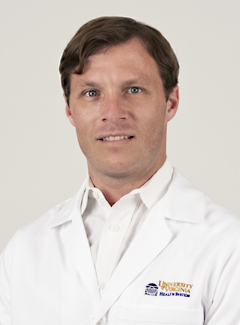 John R Gaughen, Jr., MD
Practice Area: Neurosciences, Radiology & Medical Imaging, Vascular
Department:
Radiology and Medical Imaging
Division: Neuroradiology
Title: Assistant Professor of Radiology
ABMS Certification: Diagnostic Radiology
Contact Information
P.O. Box 800170
Charlottesville, Virginia 22908
Phone: 434.924.9377 | Fax: 434.243.6999
Biography
The youngest member of the Interventional Neuroradiology team, Dr. Gaughen has rapidly gained national acclaim and notoriety for his expertise in the newest state-of-the-art endovascular treatments of complex cerebrovascular disease. As one of the most experienced physicians in the United States in the field of flow diversion treatment of brain aneurysms, Dr. Gaughen travels the country training physicians on the use of this new and exciting technology.
Dr. Gaughen is also the Director of Neurovascular Outreach for the University of Virginia Health System, collaborating with St. Mary's Hospital to develop a Neurointerventional Surgery service line for the Bon Secours Healthcare system in Richmond, VA.