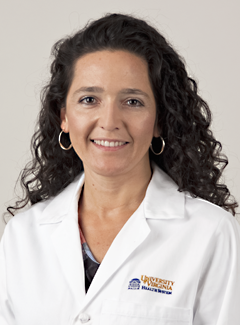 Juliana M Bueno, MD
Practice Area: Radiology & Medical Imaging
Department:
Radiology and Medical Imaging
Division: Noninvasive Cardiovascular Imaging
Title: Assistant Professor
Contact Information
P.O. Box 800170
Charlottesville, VA 22908-0170
Phone: 434.243.6888 | Fax: 434.982.6457
Biography
Dr. Bueno graduated from medical school in 2004 from Universidad de La Sabana and received her specialty degree as Radiologist from Fundacion Valle del Lili - Universidad CES, in her home country, Colombia, in 2011. After performing a clinical fellowship in Cardiothoracic imaging at Duke University Medical Center, in Durham, N.C., Dr. Bueno joined the Thoracoabdominal division of the Radiology department at the University of Virginia, to cooperate and oversee the expansion of the thoracic division at the institution. Dr. Bueno speaks English and Spanish, enjoys teaching and exploring new learning methods for trainees in radiology and other specialties. She enjoys outdoor activities and is a dog lover.