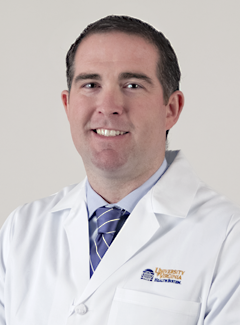 Michael Hanley, MD
Practice Area: Cancer, Radiology & Medical Imaging
Department:
Radiology and Medical Imaging
Division: Body Imaging
Title: Assistant Professor
ABMS Certification: Diagnostic Radiology
Contact Information
P.O. Box 800170
Charlottesville, VA 22908-0170
Phone: 434.243.6888 | Fax: 434.982.6457
Biography
Dr. Hanley graduated from UVA School of Medicine in 2006 and returned to UVA in 2012 after completing his diagnostic radiology residency and fellowship training. In 2013 he became the section chief of thoracic imaging and the modality director of computed tomography (CT). Dr. Hanley is actively practicing with clinical interests including lung cancer screening, thoracic procedures and cardiovascular disease. He has also been actively involved in the development of web-based education with benefits reaching far beyond Charlottesville. He has also developed an educational website for patients and healthcare providers to learn more about radiation exposure and allows users to estimate their cancer risk from medical imaging. This experience along with UVA's cutting edge imaging equipment has allowed the radiology department to deliver the highest quality exams at the lowest radiation dose possible.