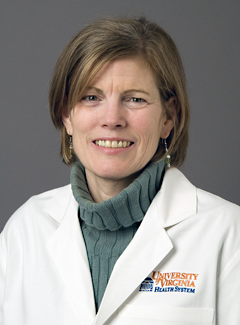 Nancy M McLaren, MD
Practice Area: Children's, Women's Health
Department:
Pediatrics
Division: General Pediatrics
Title: Assistant Professor of Pediatrics
ABMS Certification: Pediatric Medicine, 1989
Contact Information
Primary Location:
Teen and Young Adult Health Center
1204 W. Main St.
Charlottesville, VA 22903
Phone: 434.982.0090 | Fax: 434.924.9983
Biography
Dr. McLaren trained in general pediatrics at Emory Unviersity in Atlanta. She has been in Charlottesville for over 12 years and has worked at the Teen Health Center at UVA during that time. She has been fortunate to focus her time and energy on the care of the adolescent patients whom she loves. She also has a special interest in sports medicine that probably developed from the injuries her own children received during their years in competitive athletics. In her spare time she enjoys skiing in Colorado and spending time with her husband and three older teens (who have taught her so much about adolescents!).
Publications