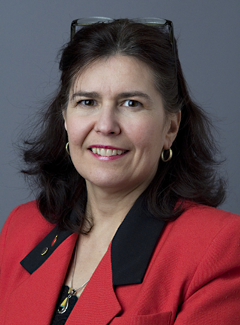 Nina J Solenski, MD
Practice Area: Neurosciences
Department:
Neurology
Division: General Neurology Appointment
Title: Associate Professor of Neurology
ABMS Certification: Neurology; Vascular Neurology
Contact Information
P.O. Box 800394
Charlottesville, VA 22908-0394
Phone: 434.924.8374 | Fax: 434.982.1726
Biography
Dr. Solenski is an Associate Professor in Neurology subspecializing in Cerebrovascular Disease at the University of Virginia, Charlottesville, VA. Dr. Solenski is a graduate of Jefferson Medical College (Philadelphia, PA '89). She received her Residency training at Dartmouth Mary-Hitchcock (Internal Medicine) and at University of Virginia (Neurology). She completed an ACGME accreditated Cerebrovascular Disease Fellowship training program at UVA (clinical and basic research). She is currently dual APBN boarded in General and Vascular Neurology. Dr. Solenski has been asked to serve as a member of the STAIR Committee (Stroke Therapy Academic Industry Roundtable), and has participated in numerous clinical research stroke trials, many focusing on acute stroke neuroprotective therapy. As an active member of the American Academy of Neurology since 1990, she is working with other members on the Stroke Education Committee as part of the overall Stroke and Vascular Neurology Strategic Plan. Dr. Solenski served as Chair of the ASA-VDH Virginia Stroke Task Force from 2005-2007. She was appointed (2010) Co-Chair of the Va Joint Commission on Healthcare Virginia Stroke Systems Task Force. Through federal and UVA-MC funding, the has developed a stroke telemedicine program to provide stroke care to remote regions of the state. As a member of the VAST (Virginia Acute Stroke Telehealth) network, she has dedicated her career to serving the needs of stroke patients and their families, particularly the underserved populations of Va.