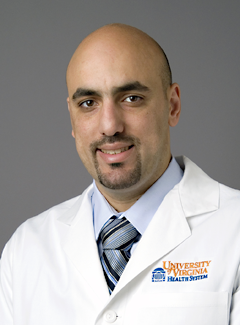 Saher S Sabri, MD
Practice Area: Radiology & Medical Imaging
Department:
Radiology and Medical Imaging
Division: Interventional Radiology, Angiography and Special
Title: Associate Professor of Radiology
ABMS Certification: Diagnostic Radiology
Contact Information
P.O. Box 800170
Charlottesville, Virginia 22908
Phone:
434.924.9401
Biography
Saher Sabri, M.D., is board certified in diagnostic radiology and fellowship trained in vascular and interventional radiology. Dr. Sabri specializes in minimally invasive treatment of liver and kidney tumors, uterine fibroid embolization, thoracic and abdominal aortic disease, peripheral arterial disease, varicose veins, venous thromboembolic disease, dialysis access maintenance, hepato-biliary disease and genitourinary disease.