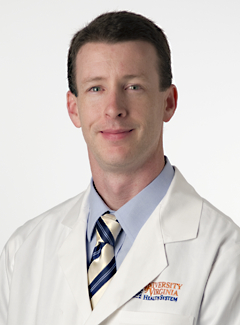 Scott Commins, MD, PhD
Practice Area: Allergy Care, Children's
Department:
Medicine
Division: Allergy and Clinical Immunology
Title: Assistant Professor of Medicine
ABMS Certification: Internal Medicine, Allergy & Clinical Immunology
Contact Information
P.O. Box 801355
Charlottesville, VA 22908
Phone: 434.924.5321 | Fax: 434.243.7288
Other Locations:
Asthma, Allergy and Immunology
Biography
A Virginian by birth, I spent much of my childhood farther south but am glad to be back in the Commonwealth. I enjoy spending time with my bride and two young children. Interests for me include most things outdoors (hiking, fishing), travel, woodworking and watching college sports.
Awards
ASCI Council 2013 Young Physician-Scientist Award
Department of Medicine Young Investigator Award
AAAAI/GSK Career Development Award
Dr. Alexander McCausland Award, University of Virginia
Publications