Neonatal Follow-up Clinic
Battle Building
Fifth Floor
1204 W. Main St.
Charlottesville, VA 22903
Location Hours:
Monday | 9:00 a.m. - 10:30 a.m.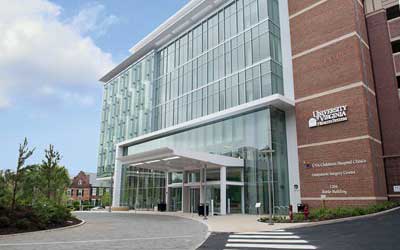 Parking: Free for patients and visitors.
Park in the 11th Street Garage.
Enter the Battle Building on Level C.
Shuttle service: Runs every 30 minutes, Monday-Friday, 8 a.m. - 6 p.m. Find shuttle stop locations.
Overview
We offer follow-up care for patients under 18 months old who have been discharged from the Neonatal Intensive Care Unit (NICU) and are transitioning to life at home.
Services include:
Oxygen and/or medication management
Irritability and/or tone management
Nutrition support
Monitoring language, motor and cognitive development
Psychosocial support
Connection to community support resources
We work with your child's primary care physician to monitor your child's health in three-month intervals for the first year and six-month intervals through three years of age.
Learn more about our neonatology services.
Meet Our Team
Our team includes:
Developmental pediatricians
Pediatric nurse practitioners
Pediatric physicial and speech therapists
Nurses
Dietitians
Social workers