Infectious Diseases Clinic
West Complex
Fifth Floor, Outpatient Clinic
1300 Jefferson Park Ave.
Charlottesville, VA 22908
Location Hours:
Monday - Friday | 8:00 a.m. - 5:00 p.m.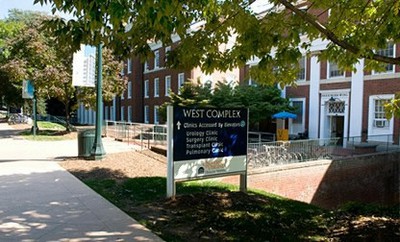 Parking: Free with validation, using your green parking ticket when you register at your appointment. Use the Lee St. and 11th St. parking garages.
Shuttle service: Runs every 30 minutes, Monday-Friday, 8 a.m.- 6 p.m. Find shuttle stop locations.
Drop-off locations: Patients can be dropped off on Hospital Drive.
Floorplan (PDF)
Overview
Treats known or presumed infections due to bacteria, fungi, viruses or parasites.
Houses an HIV clinic for AIDS treatment, counseling and education.
HIV clinic hours: Tuesday and Wednesday, 8 a.m.-12 p.m.; Thursday, 8 a.m.-12 p.m. and 1 p.m.-5 p.m.
Traveler's Clinic
Also offers a Traveler's Clinic, which provides immunization, medication and disease risk information before international travel and provides treatment for travel-related diseases.
Traveler's Clinic hours: Tuesdays and Wednesdays, 1 p.m.-4 p.m.