Orange Pediatrics
Orange Medical Center
Suite A
661 University Ln.
Orange, VA 22960
Location Hours:
Monday - Tuesday | 8:00 a.m. - 6:30 p.m.
Wednesday - Friday | 8:00 a.m. - 5:00 p.m.
Saturday | 9:00 a.m. - 12:00 p.m.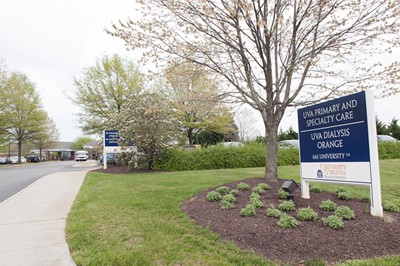 Parking: Free for patients and visitors.
Floorplan (PDF)
Overview
Orange Pediatrics (also known as Pediatrics at Orange) providers and staff help families raise healthy, happy and secure children by providing comprehensive medical care in the comfort of your community.
We provide pediatric primary care services for children and adolescents from birth through age 21. We also offer a children's fitness clinic and educational consultant on site.
Services Offered
General Healthcare
Checkups, exams and physicals
Medication management
Healthy lifestyle counseling
Nutrition counseling
Allergy care and evaluation
Pre-operative evaluation
Minor emergencies
School problems/behavior issues
Assessment of growth and development
Tests and Procedures
Lab tests
EKGs
Hearing and vision services
Digital X-ray
Patient Information
New Patients
Call us to become a patient. We can also help you transfer your medical records.
Your Medications
Call our office to refill a prescription. Allow 24-hours notice.
Lab and Test Results
Your doctor will contact you with your test results.
Cancellation Policy
Give us 24-hour notice if you need to cancel your appointment.