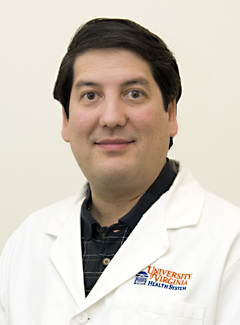 Alexander E Salomon, MD
Department:
UVA Physicians Group
Division: Zion Crossroads
ABMS Certification: Internal Medicine
Contact Information
1015 Spring Creek Parkway
Zion Crossroads, VA 22942
Biography
Dr. Alexander Salomon's clinical practice focuses on both primary care and geriatric medicine. He is an associate professor of medicine and is board-certified in internal medicine.
Dr. Salomon grew up in Columbia, S.C., and received his undergraduate degree at Princeton University. He earned his medical degree from Georgetown University in Washington, D.C., where he also completed an internship and residency in internal medicine. He was in private practice for many years before joining the University of Virginia faculty in 2011. In 2014, he was honored with an American College of Physicians Fellowship.
A husband and a father, Dr. Salomon enjoys gardening, archery, bookbinding and Medieval reenactment.