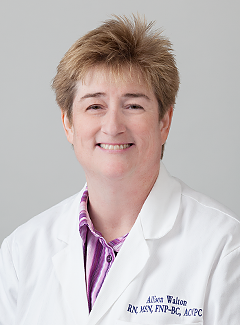 Allison P Walton, MSN
Department:
Neurological Surgery
Division: General Neurological Surgery Appointment
Title: Family Nurse Practitioner
ABMS Certification: American Nurses Credentialing Center, Active
Contact Information
Phone:
434.924.2735
Biography
I was born and raised in Fairfax, VA. I attended the University of Virginia for undergraduate and graduate school. I have also received a post-masters certificate from UVA. I will receive my Doctor of Nursing Practice (DNP) in May 2016 from Old Dominion University.
I began my nursing career at UVA as a bedside nurse in July 1992. In March 2005, I started working as a nurse practitioner with the Department of Neurological Surgery in the neurovascular and skull base division.
I love to read, be outside and fish. I love spending time with my friends.