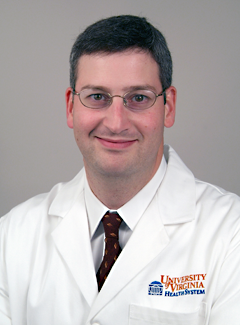 Benjamin D. Kozower, MD
Practice Area: Cancer, Heart and Vascular, Lung Transplant
Department:
Surgery
Division: Thoracic and Cardiovascular Surgery
Title: Professor
AMBS Certification: Surgery; Thoracic Surgery
Contact Information
Primary Location:
Emily Couric Clinical Cancer Center
1240 Lee St.
Charlottesville, VA 22903
Phone: 434.924.2145 | Fax: 434.244.9429
Biography
Benjamin D. Kozower, MD, MPH is an Associate Professor of Surgery in the Division of Thoracic and Cardiovascular Surgery. He is board certified in thoracic and general surgery. Dr. Kozower joined UVA in 2006 and performs the entire scope of general thoracic surgery. His specialty interests include esophageal cancer, lung cancer and minimally invasive esophageal surgery for hiatal hernias and achalasia.
Dr. Kozower completed his undergraduate and medical degrees from the University of Rochester. He completed his general surgery training at the University of Connecticut and his thoracic surgery residency at Washington University School of Medicine in St. Louis, MO. His postdoctoral studies include a thoracic surgery research fellowship at Washington University and a Master of Public Health degree from UVA.
Dr. Kozower is a funded health services researcher and the Co-Director of the Surgical Outcomes Research Center. He is the principal investigator on a study to improve the effectiveness and patient centeredness of lung cancer surveillance following lung cancer resection. This proposal was funded by the Patient Centered Outcomes Research Institute (PCORI) in 2014. Dr. Kozower also serves as a member of the PCORI merit review panel and is widely published in professional journals related to thoracic surgery and his research.
Related Media:
A Comprehensive Team Approach For Better Cancer Care at UVA
UVA Cancer Center: Frances and Charlie Berry Beat Lung Cancer Together
Awards
2015 Best Doctors in America® List
2015 Top Doctor - Castle Connolly, Thoracic & Cardiac Surgery
2015 Richard E. Clark Award: Outstanding Society of Thoracic Surgeons Database Paper – Society of Thoracic Surgeons Annual Meeting in San Diego, CA
2014 Extraordinary Volunteer Leadership Award, Society of Thoracic Surgeons
2014 Chair, Society of Thoracic Surgeons General Thoracic Surgery Database Taskforce
2013 Agency for Healthcare Research and Quality Highlighted Research Activity, Complexities of the Volume-Outcome Relationship
2010 Agency for Healthcare Research and Quality Innovations Exchange, Tobacco Cessation Project
2010 J. Maxwell Chamberlain Memorial Award: Outstanding Paper in General Thoracic Surgery- Society of Thoracic Surgeons Annual Meeting Fort Lauderdale, FL
2010 Academic Excellence Award, Department of Surgery, University of Virginia
2010 Leadership in Academic Matters, University of Virginia
2009 School of Medicine Award for Excellence in Teaching, University of Virginia
2009 School of Medicine Academy of Distinguished Educators, University of Virginia
2004 Chief Resident Teaching Award, University of Connecticut
2004 Ludwig J. Pyrtek Award: Outstanding Academic Contribution to the University of Connecticut
Publications