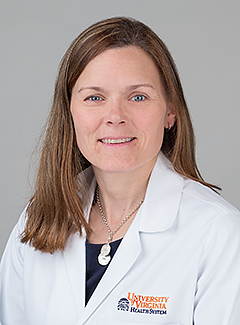 Biography
Brandi Nicholson, MD, has been at the University of Virginia since 2001 when she began her residency training. After completing her fellowship, she joined the faculty as an assistant professor of radiology and medical imaging in the Breast Imaging Division in 2006. Now an associate professor, she currently serves as the medical director for breast imaging at Novant Health UVA Health System Culpeper, a satellite practice location for breast imaging services.
Dr. Nicholson has also been the associate residency program director for the Diagnostic Residency Program since 2008. She was the leader in developing the current training curriculum for UVA Radiology residents. She has published several papers in the area of resident education and sits on various national committees related to residency training. Dr. Nicholson is on the American Board of Radiology core exam breast section question-writing panel. Beginning in 2013, she joined the American Institute for Radiology Pathology (AIRP) as an associate editor on the AIRP editorial review board. She is also a lecturer for the breast section of the AIRP, a radiology-pathology educational experience attended by most radiology residents in the United States.
Dr. Nicholson's areas of expertise include mammography, breast ultrasound, breast MRI, breast specific gamma imaging (BSGI), contrast-enhanced spectral mammography, image-guided breast biopsies and minimally invasive procedures, including radioactive seed localizations and interpretation of DEXA scans. She has published 20 publications and three chapters primarily in the areas of education and advanced breast imaging.
In her free time, Dr. Nicholson enjoys all forms of exercise and spending time with her husband and four children.
Related Media:
NBC29 House Call - Dr. Brandi Nicholson on Breast Cancer
Awards
2015 Fellowship in the Society of Breast Imaging
2015 Radiology Management Program Award Winner, Association of University Radiologists
2010 Certificate of Merit for Educational Exhibit, Radiological Society of North America
2008 Cum Laude Award for Educational Exhibit, Radiological Society of North America
Publications