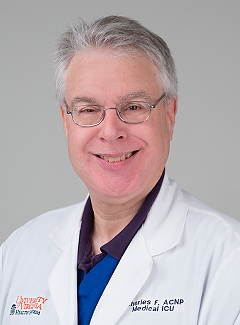 Charles A Fisher, ACNP
Department:
Medicine
Division: Pulmonary and Critical Care Medicine
Title: Acute Care Nurse Practitioner
ABMS Certification: American Nurses Credentialing Center, 2000
Contact Information
P.O. Box 801469
Charlottesville, VA 22908-1469
Phone:
434.243.9643
Biography
Charles Fisher is an acute care nurse practitioner in the Medical ICU at UVA. He grew up in Roseville, California, earned his bachelor's in nursing from California State University at Sacramento and his master's in nursing, with a focus on adult critical care, from the University of California, San Francisco. He joined UVA in 1991 as a clinician in the Thoracic-Cardiovascular Postoperative Unit. He earned his acute care nurse practitioner certification from UVA in 1999.
Mr. Fisher has been married for 29 years and has two daughters, Anna and Katharine. Outside of work, he assists his wife in supporting the Emergency Food Network with food transport to the pantry, and has been a blood donor since 1972. He enjoys gardening, walking Virginia trails, travel and theater.