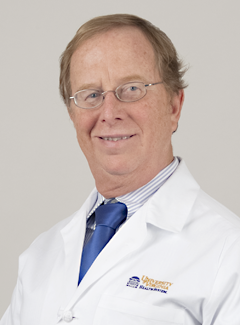 Daniel J Cox, PhD
Practice Area: Neurosciences, Psychiatry
Department:
Psychiatry and Neurobehavioral Sciences
Division: Behavioral Medicine Center
Title: Professor of Psychiatric Medicine and Professor of Internal Medicine
ABMS Certification: Diplomate, Clinical Psychology, 1978; Biofeedback, 1981
Contact Information
P.O. Box 800623
Charlottesville, VA 22908-0623
Phone: 434.924.5314 | Fax: 434.924.0185
Biography
Daniel J. Cox, Ph.D., grew up in Ohio, where he enjoyed his three siblings, sports, the outdoors and science. He graduated from Xavier University, where he actively participated in student government during the turbulent Vietnam era.
Dr. Cox attended graduate school at the University of Louisville, and earned his Ph.D. in clinical psychology following a residency at the University of Virginia Medical School. He joined the faculty of UVA's Department of Psychiatry as an assistant professor in 1977. While there he earned his diplomat in clinical psychology, established the Behavioral Medicine Center, the Center for Behavioral Medicine Research and the Virginia Driving Safety Laboratory. During his tenure at UVA, he achieved the rank of full professor in psychiatry, internal medicine and ophthalmology.
Dr. Cox has brought the university and Central Virginia over $30 million in research funds from the National Institutes of Health, private foundations and the industry. He has published over 230 scientific journal articles, 60 book chapters and one book on male genital exhibitionism. He currently specializes in helping individuals manage their diabetes, drawing from his extensive research, clinical and personal experience. Additionally, his Virginia Driving Safety Laboratory focuses on driving assessments, rehabilitation and research and is a leader in medical conditions that impact driving safety.
He has been blessed with a tolerant and gracious wife, four loving and accomplished children and three grandchildren. He continues to enjoy family, church, the outdoors, philosophy, theology and politics
Related Media: