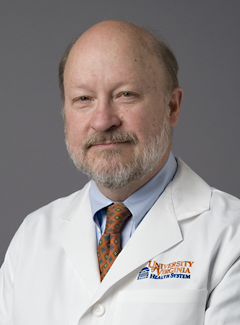 Edward H Oldfield, MD
Department:
Neurological Surgery
Division: General Neurological Surgery Appointment
Title: Professor of Neurosurgery
ABMS Certification: Neurological Surgery
Contact Information
P.O. Box 800212
Charlottesville, VA 22908-0212
Phone: 434.924.2650 | Fax: 434.924.5894
Other Locations:
Pituitary Clinic
Biography
Edward Hudson Oldfield was born in Mt. Sterling, KY. He completed three years of undergraduate education at the University of Kentucky as a physics major before entering medical school in 1969. After graduating from medical school he completed a basic surgical residency at Vanderbilt University 1973-75 and then spent a year as a visiting registrar in neurology and neurosurgery at The National Hospital for Nervous Disease, Queen Square, London, England, before beginning neurosurgical residency at Vanderbilt University, which he finished in 1980. After a year in private neurosurgical practice in Lexington, KY, he joined the National Institute of Neurological Disorders and Stroke (NINDS) at the National Institutes of Health (NIH) as a senior staff fellow in neurosurgery and completed a 2-year intramural NIH fellowship in cellular immunology of tumors. In 1984 he became chief of the clinical neurosurgery section, surgical neurology branch, NINDS and from 1986 until 2007 was the chief of the surgical neurology branch. At the NIH he lead successful laboratory and clinical research efforts in the areas of brain and pituitary tumors, syringomyelia, von Hippel-Lindau disease, spinal arteriovenous malformations, pathophysiology and therapy of cerebral vasospasm after subarachnoid hemorrhage and development of new drug delivery approaches for the central nervous system. In addition to his clinical interests, he has sought to use new information and techniques of basic science to develop new treatment approaches for disorders of the brain and spinal cord.
He joined the Department of Neurosurgery at the University of Virginia in 2007 where he leads a multidisciplinary effort in the treatment of pituitary tumors and contributes to the research program in the Department of Neurosurgery. He holds the crutchfield chair in neurosurgery, is a professor of neurosurgery and internal medicine and is the head of the neuroendocrine program at the University of Virginia.
His contributions to academic and organized neurosurgery include membership on the editorial board of neurosurgery 1992-94, the editorial board of The Journal of Neurosurgery 1994-2002, serving as co-chairman 2001-2002. In 2005-2006 he was vice president of the Society of Neurological Surgeons and was president of the Society of Neurological Surgeons 2008-2009. He is the author of over 400 original scientific and clinical contributions to the medical literature and the co-inventor of patents on convection-enhanced drug delivery and genetic therapy. Many of his former fellows hold positions in academic medicine, including several departmental chairmen.
He married Susan Wachs of Lexington, KY in 1975. They are the proud parents of Caroline (1989).
Awards
2013-2016 Best Doctors in America® List
2009 Harvey Cushing Medal, the highest honor bestowed on a member by the American Association of Neurological Surgeons (AANS) for his many years of outstanding leadership, dedication and contributions to the field of neurosurgery
2006 Distinguished Alumnus Award, University of Kentucky Medical Alumni Association in recognition for serving as a role of the quintessential clinician-scientist and remarkable contributions to the understanding of the nervous system and the practice of neurosurgery
1999 Farber Award of the American Association of Neurological Surgeons for leadership, vision and dedication and for scholarly contributions to the field of brain tumor research
1995 Grass Medal for Meritorious Research in Neurological Science from the Society of Neurological Surgeons
1991 Public Health Superior Service Award for outstanding management of the surgical neurology branch, training of academic neurosurgeons and for advances in understanding the biology of brain tumors
Publications