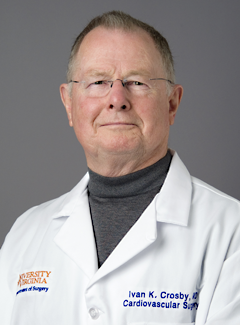 Ivan K Crosby, MBBS, FRCS, ED
Department:
Surgery
Division: Vascular and Endovascular Surgery
Title: Professor of Surgery
ABMS Certification: Thoracic Surgery, 1972 Surgery, 1971
Contact Information
P.O. Box 800679
Charlottesville, VA 22908-0709
Phone: 434.243.9250 | Fax: 434.243.9250
Biography
Ivan K. Crosby, MD, is co-Director of the Heart and Vascular Center at the University of Virginia Health Sciences Center. He is medical director of the postoperative floor for thoracic and cardiovascular surgery patients and the clerkship director for the Cardiac Surgical Clerkship in the School of Medicine. He is on the board of directors of the Virginia Cardiac Surgical Quality Initiative, a seventeen hospital consortium of all the centers doing cardiac surgery in Virginia. He is certified by the American Board of Thoracic Surgery and the American Board of Surgery. Clinical research interests currently are outcomes for cardiac and vascular surgery procedures, both locally and regionally.
A native of Brisbane, Australia, Dr. Crosby graduated from the University of Queensland, School of Medicine. He did three years of surgery residency at the Royal Brisbane Hospital, and then acquired the post graduate degree of fellow of the Royal College of Surgeons of Edinburgh, and worked as a thoracic surgery registrar at The Royal Infirmary in Edinburgh. He then redid the last two years of a general surgery residency at Kansas University Medical Center and completed the thoracic surgery residency at Kansas University and Mid-America Heart Institute in Kansas City, MO.
Following his residency, he joined the faculty of the University of Virginia in the Division of Thoracic and Cardiovascular Surgery in 1972. In 1984, as co-director of heart transplantation and director of heart-lung transplant research, he started a heart transplant program at Baylor University Medical Center in Dallas, TX. Following the successful launch of that organ transplant program, he moved to Winston-Salem, NC as chief of cardiac surgery at Forsyth Medical Center, a position he held for thirteen years. In 2000, he was invited to rejoin the faculty in the Department of Surgery at the University of Virginia in Charlottesville.
In 1983, Dr. Crosby was a James IV Travelling Scholar, visiting Paris, London, Stockholm, Copenhagen, Edinburgh, Glasgow and Southampton. Since 2000, he has been invited to give surgical grand rounds at many medical centers on the Eastern seaboard and in the Midwest and Far West. He is currently a professor of surgery in the Division of Thoracic and Cardiovascular Surgery. He has been on the Best Doctor's list for North Carolina and Virginia on multiple occasions. Dr. Crosby is a member of the American Association for Thoracic Surgery and is a distinguished fellow in the Society for Vascular Surgery and a fellow of the American College of Cardiology and the American College of Surgeons. Dr. Crosby's recreational pursuits include underwater photography as he is an avid scuba diver, and he also enjoys playing golf and fly fishing.