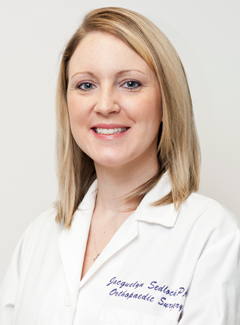 Jacquelyn Sedlock, PA, MHS
Department:
Orthopaedic Surgery
Division: Adult Orthopaedic Trauma
Title: Physician Assistant
ABMS Certification: National Commission on Certification of Physician Assistants
Contact Information
P.O. Box 800159
Charlottesville, VA 22908
Phone: 434.243.5432 | Fax: 434.243.0290
Biography
Jacquelyn Sedlock-Wilson was born and raised in Pittsburgh, Pennsylvania. She attended Pennsylvania State University, where she graduated with a Bachelor of Science in kinesiology. After graduation, she worked as an administrator in a sports medicine clinic and was captivated by orthopedic surgery. She received her master's degree through the physician assistant program at Lock Haven University in 2010, and began working in the Department of Orthopaedic Surgery at UVA the same year. She has experience in both the Foot and Ankle and Trauma divisions.
Ms. Sedlock-Wilson is the mother of a girl and boy, and her husband is also a PA in the Adult Reconstruction Division. Her interests include cooking, wine tasting, long-distance running and crafting with her kids. She and her family are diehard Pittsburgh and Penn State sports fans.