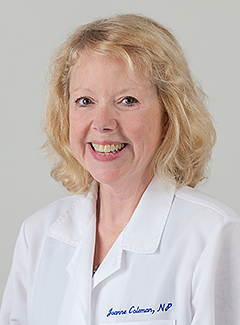 Joanne K Coleman, FNP
Department:
Medicine
Division: Pulmonary and Critical Care Medicine
Title: Family Nurse Practitioner
ABMS Certification: American Nurses Credentialing Center -FNP, 1997; ANP-1996
Contact Information
Primary Location:
Sleep Disorders Center Jefferson Park Avenue
Fourth Floor
1222 Jefferson Park Ave.
Charlottesville, VA 22903
Phone:
434.982.0407
Biography
Joanne Coleman is a nurse practitioner in the Sleep Disorders Center at UVA. Born in Springfield, Massachusetts, she attended the University of Massachusetts at Amherst for her BSN and earned her MSN from the University of Pennsylvania. She joined UVA in 1998, working in internal medicine and family medicine before joining the Division of Pulmonary and Critical Care Medicine in 2013.
Ms. Coleman lives in a rural area of Earlysville, and has a large garden and a fruit orchard. She is also an artist and enjoys painting Impressionist landscapes with acrylic paint and mixed medium on canvas. She enjoys bicycling, hiking and working outdoors in the garden and orchard.