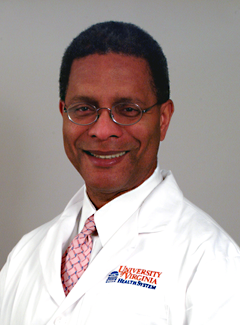 M. Norman Oliver, MD
Department:
Family Medicine
Division: General Family Medicine Appointment
Title: Professor and Chair of Family Medicine, Health Evaluation Sciences, and Anthropology
ABMS Certification: Family Practice, 1997
Other Appointment: Chair, Dept of Family Medicine; Associate Dean for Diversity, University of Virginia School of Medicine; Director, Center on Health Disparities
Contact Information
Primary Location:
UVA Family Medicine
University Hospital
First Floor
1221 Lee St.
Charlottesville, VA 22908
Phone: 434.924.5348 | Fax: 434.924.8335
Biography
I have the honor and privilege of serving as the chair of this department. In addition to my administrative duties, I see patients in our Primary Care Center clinic, teach residents and students, and conduct research.
My research focuses on investigating social determinants of health, particularly their effect on racial and ethnic health inequities. I use geographic information systems technology and spatial epidemiological analyses to evaluate the role of such factors as poverty and education on cancer health disparities. Recently, my research has branched into an evaluation of the effect of unconscious racial stereotypes and biases on physicians' delivery of clinical services.
I received my M.D. and my M.A. in medical anthropology from Case Western Reserve University. I completed my residency in family medicine at University Hospitals of Cleveland. After completing my residency, I worked for two years as a family physician in a rural Eskimo fishing village in Alaska. I then came to the UVA School of Medicine, where I helped found and currently serve as the director of the UVA Center on Health Disparities.
Awards
2016, 2015 Best Doctors in America® List