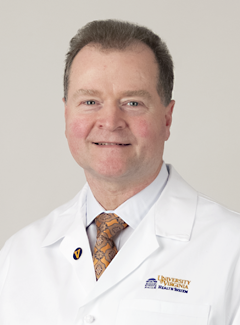 Mark A Newbrough, MD
Practice Area: Geriatricians
Department:
Medicine
Division: General Medicine, Geriatrics and Palliative Care
Title: Associate Professor
AMBS Certification: Internal Medicine, Geriatric Medicine
Contact Information
P.O. Box 800744
Charlottesville, VA 22908-0744
Phone: 434.924.1685 | Fax: 434.243.9282
Biography
A native of St. Albans, WV, Dr. Newbrough graduated from the University of Virginia and West Virginia University School of Medicine. He joined the faculty at UVA in November, 2012 to become the Medical Director of Blue Ridge PACE (Program for All-Inclusive Care of the Elderly). Previously, at West Virginia University School of Medicine - Charleston Division, Dr. Newbrough served as the Director of the West Virginia Geriatric Education Center, maintained an interprofessional geriatrics primary and specialty care practice for 21 years, and gained signficant experience working as the Medical Director of a federally qualified health center for 16 years. His personal interests include photography, classical music (especially opera), and art. He lives in the Charlottesville area with his wife, Jennifer.
Awards
West Virginia Outstanding Rural Health Practitioner, 2002 David Z. Morgan Award for Outstanding Contribution to Geriatrics Education, 2006 Rockefeller Award, 2010 (for outstanding service and leadership for patients, families, and communities in the struggle with Alzheimer's disease)
Publications