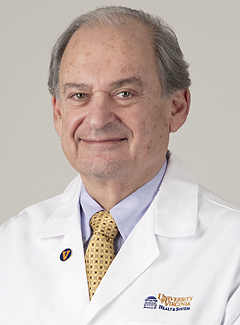 Paul A. Levine, MD
Department:
Otolaryngology - Head and Neck Surgery
Division: Head & Neck Surgical Oncology
Title: Robert W. Cantrell Professor of Otolaryngology-Head and Neck Surgery
ABMS Certification: Otolaryngology, 1978
Contact Information
Primary Location:
ENT Clinic
Fontaine Research Park
2nd Floor, Suite 2200
415 Ray C Hunt Dr.
Charlottesville, VA 22908
Phone: 434.924.5593 | Fax: 434.982.4257
Other Locations:
Head and Neck Surgery Clinic
Biography
Born in Brooklyn, New York Paul A. Levine, MD received a B.S. in Biology from Rensselaer Polytechnic Institute in 1969, M.D. from Albany Medical College in 1973 and completed his internship and otolaryngology-head and neck surgery surgical residency at Yale in 1977. After a year fellowship at Stanford in head and neck, maxillofacial and facial plastic and reconstructive surgery completed in 1978, Dr. Levine remained on the Stanford faculty as an assistant professor in the Division of Otolaryngology-Head and Neck Surgery and associate chief for the Division at Santa Clara Valley Medical Center.
In 1984, Dr. Levine joined the Department of Otolaryngology-Head and Neck Surgery at the University of Virginia as an associate professor and vice chair, became a tenured professor in 1987 and held the position of Chair from 1997 until he stepped down in 2017.
Dr. Levine has contributed more than 140 publications to the specialty during his career and has been very active in institutional and national committees in and outside the specialty throughout his career. He was an early proponent of plate fixation for mandible fractures, and he has become recognized for his expertise in treating sinonasal malignancies, especially esthesioneuroblastoma and sinonasal undifferentiated carcinoma. He has extensive experience in performing craniofacial resections and sparing of the eye when treating these malignancies.
A nationally and internationally recognized academic head and neck cancer surgeon, Dr. Levine has served as a member of all the major societies in the field and as a leader of many. He has served as the past president of the American Broncho-Esophagological Association, chairman of the Advanced Training Council of the American Head and Neck Society as well as the President of the American Head and Neck Society. He has been a director of the American Board of Otolaryngology, completing his 12 year term in 2010 and served as its treasurer for four years. He completed his term as Southern Section Vice President of the Triological Society in 2007 and currently serves as the editor of JAMA Otolaryngology-Head and Neck Surgery (formerly known as Archives of Otolaryngology-Head and Neck Surgery) as well as an editorial board member of JAMA.
Dr. Levine was the guest of honor at the Triological Society Combined Otolaryngology Sections meeting in April 2012 and most recently was named the guest of honor for the Triological Society Southern Sections meeting in January 2013. He was the recipient of a Presidential Citation from the American Head and Neck Society in April 2013. Dr. Levine was named by Newsweek as one of the top head and neck cancer surgeons in the United States in 2015.
Awards
2011-2016 Best Doctors in America® List
2015 One of America's Top Cancer Doctors, Newsweek®