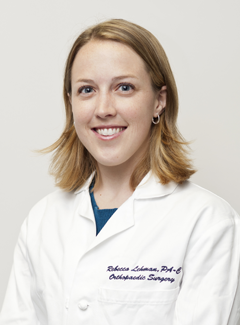 Rebecca Lehman, PA
Department:
Orthopaedic Surgery
Division: Spine Surgery
Title: Physician Assistant
ABMS Certification: Physician Assistant
Contact Information
Primary Location:
Spine Center
Third Floor
Suite 3100
415 Ray C. Hunt Dr.
Charlottesville, VA 22908
Phone: 434.243.3633 | Fax: 434.243.1539
Biography
I was born in Mississippi, but I grew up in Denver, CO, and Charlottesville, VA, and have lived in various places across the country. I attended Virginia Tech for undergrad and earned a BS in biochemistry and a minor in chemistry. I received my master's degree in physician assistant studies from Shenandoah University.
I specialize in orthopedic spine surgery and have been at UVA for four years.
My husband, Tyler, and I have one son and a dog.