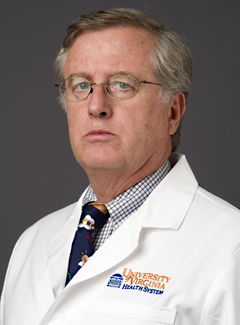 Robert J Boyle, MD
Department:
Pediatrics
Division: Neonatology
Title: Professor of Pediatrics
ABMS Certification: Pediatrics, 1978; Neonatal-Perinatal Medicine, 1979
Other Appointment: Associate, Center for Biomedical Ethics
Contact Information
P.O. Box 800386
Charlottesville, VA 22908-0386
Phone: 434.924.5429 | Fax: 434.924.2816
Biography
Dr Boyle is a graduate of Boston College and the Johns Hopkins School of Medicine. He completed his residency in Pediatrics at Rainbow Babies and Children's Hospital, Case Western Reserve, in Cleveland and his fellowship in Neonatal-Perinatal Medicine at Women's and Infants Hospital, Brown University, Providence, RI. He was on the faculty in Pediatrics at Wake Forest University for five years before joining the faculty at the University of Virginia in 1983. He is currently Professor of Pediatrics, Director of Neonatal Follow-up, Attending Neonatologist, Affiliated Faculty of the Center for Biomedical Ethics, and Chair of the Medical Center Ethics Committee. He has published multiple papers and chapters related to perinatal and neonatal ethics and has contributed multiple chapters in "Fletcher's Introduction to Clinical Ethics." He is a member of the Data Safety and Monitoring Committee of the Perinatal Network at NICHD and has recently completed a six year term on the Pediatric AIDS Committee of the American Academy of Pediatrics. He served for three years on the Board of the Virginia Birth Injury program. He is listed in America's Top Doctors, Best Doctors in America and Guide to America's Top Pediatricians. He has three adult children and enjoys foreign travel and gardening.
Awards
2015 Bedside Manner Award, Our Health Magazine; Third place
America's Top Doctors
2014, 2013, 2012, 2011 Best Doctors in America® List
Guide to America's Top Pediatricians