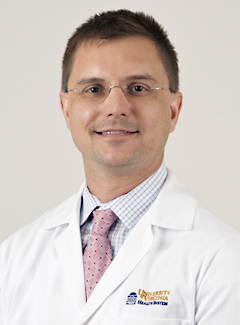 Russell C Bailey, MD
Department:
Neurology
Division: Pediatric Neurology
Title: Assistant Professor
ABMS Certification: Neurology with Special Qualification in Child Neurology, 2009; Clinical Neurophysiology, 2011; Epilepsy, 2014
Contact Information
P.O. Box 800394
Charlottesville, VA 22908
Phone:
434.924.0000
Other Locations:
Pediatric Neurology and Epilepsy Clinic
Biography
I was born and raised in Atlanta, GA. I attended Davidson College in North Carolina for my undergraduate degree, where I received a B.A. in religion. I then attended the Medical College of Georgia in Augusta, GA.
I specialize in pediatric epilepsy and neurology. I completed my child neurology residency and fellowship training in clinical neurophysiology and epilepsy at the University of Virginia. While I joined UVA's faculty in 2013, I spent seven years here previously during my training. Presently, I am a board-certified child neurologist and hold subspecialty certification in clinical neurophysiology and epilepsy. I serve as the director of the inpatient Pediatric Epilepsy Monitoring Unit at the UVA Children's Hospital and as the associate director of the Department of Neurology's Epilepsy Fellowship. In addition, I serve on the professional advisory board for the Epilepsy Foundation of Virginia.
Related Media: