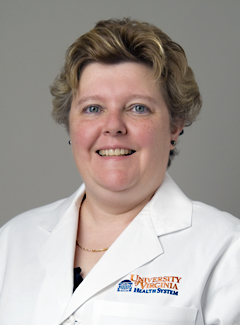 Sandra M Johnson, MD
Department:
Ophthalmology
Division: Ophthalmology
Title: Associate Professor of Ophthalmology
ABMS Certification: Ophthalmology
Contact Information
Primary Location:
Eye Clinic
1300 Jefferson Park Ave.
Charlottesville, VA 22908
Phone: 434.924.2808 | Fax: 434.244.9436
Other Locations:
Eye Clinic Northridge
Biography
I grew up in New England and decided to be a doctor while in elementary school. I later discovered ophthalmology, while working in a research lab in Boston, where some of the research focused on eye disease. I love glaucoma as it encompasses long term care of patients and involves medical, laser and surgical care. I see patients of all ages with all types of glaucoma and also do as much of their general eye care as I can. I also enjoy cataract surgery and have edited a book on cataract surgery in the glaucoma patient. Being part of an academic medical center allows me to teach and approach patient care in a scholarly fashion. I feel blessed to live in such a nice area of the USA and to work in a place and with a department that embraces a culture of excellence.
Publications