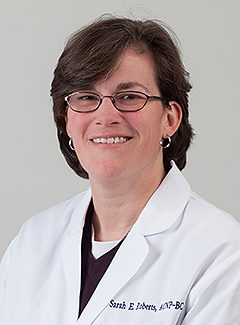 Sarah E Roberts, MSN
Practice Area: Surgery, Children's, Neurosciences
Department:
Neurological Surgery
Division: General Neurological Surgery Appointment
Title: Acute Care Nurse Practitioner
ABMS Certification: American Nurses Credentialing Center
Contact Information
P.O. Box 800212
Charlottesville, VA 22908-0212
Phone: 434.243.5749 | Fax: 434.243.5204
Other Locations:
Pediatric Neurosurgery Clinic
Biography
Sarah Roberts was born and raised in Charlottesville, VA. After graduating from Albemarle High School, she attended Radford University where she graduated with a B.S. in history and political science. After graduation, she worked in the college bookstore industry.
Roberts entered the University of Virginia School of Nursing where she obtained her BSN in 2001 and her MSN in 2004. She joined UVA Physician's Group and the Department of Neurosurgery in 2004.
Roberts is married and has two children. In her free time, she enjoys running, hiking and coaching her children in basketball.