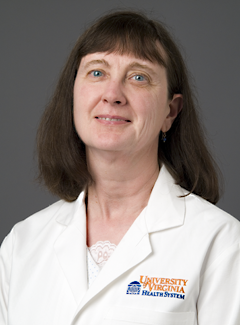 Sharon Esau, MD
Department:
Medicine
Division: Pulmonary and Critical Care Medicine
Title: Associate Professor of Clinical Internal Medicine
ABMS Certification: Internal Medicine; Pulmonary; Critical Care Medicine
Contact Information
P.O. Box 800546
Charlottesville, VA 22908-0546
Phone: 434.924.5210 | Fax: 434.924.9682
Other Locations:
Transitional Care Hospital
Biography
I have been teaching and practicing at the University of Virginia Pulmonary Division since 1982. My clinical interests are in general pulmonary diseases and chronic respiratory failure, including neuromuscular diseases effecting the breathing muscles.
Publications