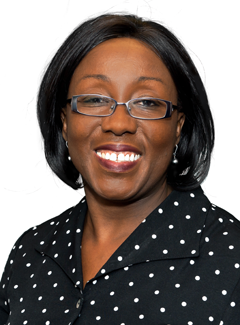 Stella Debrah-Siriboe, MD
Practice Area: Primary Care, Children's
Department:
UVA Physicians Group
Division: UVA Pediatrics - Culpeper
ABMS Certification: American Board of Pediatrics, 1993
Contact Information
633 Sunset Lane
Suite A & C
Culpeper, VA 22701
Phone: 540.825.5381 | Fax: 540.829.0945
Biography
Dr. Siriboe received her medical training in Harare, Zimbabwe East Africa. She practiced in that country for 4 years prior to immigrating to the United States with her husband. She completed her Pediatric Residency at Howard University in Washington in 1993 and Chief Residency at that same hospital in 1994. After her residency she joined a group of two other Pediatricians in Herndon, Virginia and worked in a private practice for 8 years.
In September of 2002 she began working at a Pediatric Practice in Fort Oglethorpe Georgia and then in Hawkinsville, Georgia. After 9 years in the Georgia area she decided to return to the Virginia area to be closer to family and friends. Working in Culpeper has turned out to be the perfect opportunity. Her interests are in general pediatrics and ADHD. She also loves to read, garden, roller skate and take on small home improvement projects. She has two dogs and a very large cat.
Dr. Siriboe lives in Culpeper with her family.