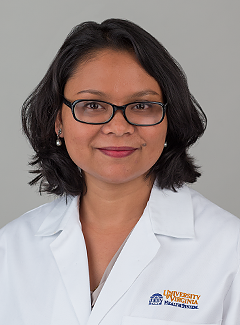 Biography
I was born and raised in the state of Assam in the eastern part of India.
I specialize in general cardiology and vascular medicine. After completion of medical school in India, I completed a PhD in Physiology and an Internal Medicine Residency at East Carolina University in North Carolina. Subsequently, did a post-doctoral fellowship at Duke University Medical Center, followed by clinical fellowships in cardiology and vascular medicine at the University of Virginia.
I have active an research interest in the field of peripheral arterial disease (PAD) aimed at improving patient care and quality of life in PAD. My research focuses on endothelial function and adaptation to injury, angiogenesis and tissue adaptive responses to ischemia in PAD and in identification of novel biomarkers and prognostic markers in PAD.
Awards
2012 Finalist, Mid-Atlantic Capital Young Investigator Award, Washington, DC
2012 Finalist, Northwestern Cardiovascular Young Investigators' Forum, Chicago, IL
2010 Best Basic Science Research, American College of Physicians, NC Chapter Meeting, Durham, NC
2007 Young Investigator Award, Society for Vascular Medicine and Biology
2005 Caroline tum Suden/Frances A. Hellebrandt Professional Opportunity Award for Meritorious Research, American Physiological Society
2005 International Congress of Physiological Sciences Trainee Travel Award
2003 Carol F. Volkman Memorial Award for Best Research of the Scientific Program: East Carolina University, NC
2002 Academic Honor Society of Phi Kappa Phi, East Carolina University Chapter
Publications