Cardiac Surgery Clinic
Location Hours:
Monday - Friday | 8:00 a.m. - 5:00 p.m.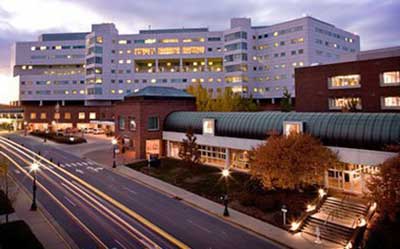 Parking: Free with validation, using your green parking ticket when you register at your appointment. Use the Lee Street Parking Garage directly across the street from University Hospital and Emergency Department.
Shuttle service: Runs every 30 minutes, Monday-Friday, 8 a.m. - 6 p.m. Find shuttle stop locations.
Floorplan (PDF)
Overview
The Cardiac Surgery Clinic at UVA offers you and your family compassionate care alongside the most up-to-date treatments available.
Our surgeons perform more chest surgery operations than any other program in the state, and we often treat patients who were initially considered inoperable or too high risk for surgery.
We treat a full range of cardiac diseases and conditions and specialize in a variety of techniques, including complex surgical approaches.
In addition to open heart surgery, UVA surgeons perform complex procedures including minimally invasive surgical techniques for many heart diseases and conditions.
Our surgeons are also experts in repoerative (or "redo") surgery, heart transplant and congenital heart surgery for adults and children.
Your Team
We'll offer you an individualized care plan, and members of your team may include cardiologists, pharmacists, dietitians, exercise therapists, social workers and financial aid counselors.
If you were referred to UVA, we'll be sure to keep in touch with your primary care doctors.
Learn more about our Heart & Vascular Center.
Surgical Procedures
Bypass Surgery
Coronary artery bypass grafting (CABG)
Minimally invasive cardiac surgery
Off-pump heart bypass procedure
Hybrid procedures
Valve Repair and Replacement
Percutaneous valve replacements
Aortic valve surgery
Mitral valve surgery (repair and replacement)
MitraClip percutaneous mitral valve repair
TAVR (transcathether valve replacement)
Tricuspid valve surgery
Pulmonary valve surgery
Minimally invasive valve repair and replacement
Aneurysm Repair
Aortic
Thoracic aortic
Left ventricular
Aortic stents
Surgical Treatments for Arrhthmias
Atrial fibrillation surgery
Pacemaker and defibrillator insertion
Surgical Options for Heart Failure or Cardiomyopathy
Septal myectomy
Ventricular assist devices
Heart transplant
Conditions Treated
Coronary artery disease
Atrial fibrillation
Valve disease
Heart failure
Congenital heart defect
Tumors of the heart and heart valves
Patient Information
The Day of Surgery
Your support team will make sure you and your family are fully prepared for surgery.
On the day of your surgery, you will check in at the Surgical Admissions Office on the first floor of University Hospital. Your family can wait for you on the fourth floor in the family waiting area. Our doctors and nurses will keep them informed of your progress during and after your procedure.
Call us if you have any questions or concerns.
Lab and Test Results
Lab results are available in MyChart, a secure online portal that lets you view lab results and communicate with your healthcare provider. You can also call us for results.
Medication Refills
Call 434.243.1000 for help refilling your prescriptions.