Chronic Wound Care Clinic
West Complex
Davis Wing, 4th Floor
1300 Jefferson Park Avenue
Charlottesville, VA 22908
Location Hours:
Wednesday | 11:00 a.m. - 4:00 p.m.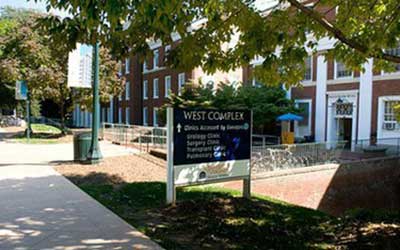 Note: Input West Complex for Google Maps and some GPS devices.
Parking: Free with validation, using your green parking ticket when you register at your appointment. Use the Lee Street and 11th Street parking garages.
Shuttle service: Runs every 30 minutes, Monday-Friday, 8 a.m. - 6 p.m. Find shuttle stop locations.
Drop-off locations: Patients can be dropped off in front of the West Complex off Jefferson Park Avenue.
Floorplan (PDF)
Overview
Treats wounds or ulcers that fail to heal or show delayed healing due to vascular disease, infection, diabetes or other metabolic disorders, immunosuppression, unrelieved pressure, radiation injury or malnutrition.
Learn more about our plastic surgery services.