Diagnostic Vascular Laboratory
Location Hours:
Monday - Friday | 7:00 a.m. - 5:00 p.m.
Cancellations require 72-hour notice.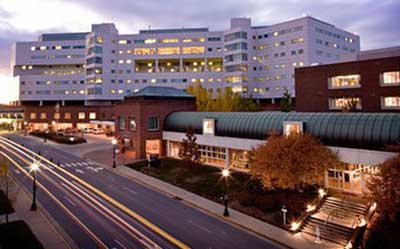 Parking: Free with validation, using your green parking ticket when you register at your appointment. Use the Lee Street Parking Garage directly across the street from University Hospital and Emergency Department.
Overview
The Diagnostic Vascular Laboratory at the Heart and Vascular Center provides non-invasive cardiovascular diagnostic tests. A registered vascular technologist or registered vascular sonographer performs these studies.
Ultrasound
Carotid duplex ultrasound imaging

Symptomatic/asymptomatic carotid stenosis
Intraoperative carotid artery analysis

Venous duplex ultrasound imaging

Venous thrombosis
Chronic venous insufficiency

Perforator incompetence
Deep abdominal ultrasound imaging

Celiac artery stenosis,

superior mesenteric artery stenosis

and

inferior mesenteric artery stenosis

Aneurysm imaging

Abdominal aortic aneurysms
Femoral and popliteal artery aneurysms
Pseudoaneurysms

Bypass graft imaging

Lower extremity and upper extremity bypass graft analysis

Renal artery duplex imaging
Arterial duplex imaging
Hemodialysis fistula duplex imaging
Doppler Studies
Extremity Doppler pressures and waveforms

Analysis of peripheral vascular occlusive disease

Exercise lower extremity Doppler pressures

Analysis of peripheral vascular occlusive disease (especially inflow)
Plethysmographic Studies
Arterial plethysmography

Raynaud's disease (toes, fingers)
Conditions related to diabetes
Learn more about our Heart and Vascular Center.