UVA Family Medicine
University Hospital
First Floor
1221 Lee St.
Charlottesville, VA 22908
Location Hours:
Monday, Thursday | 8:00 a.m. - 8:30 p.m.
Tuesday | 9:00 a.m. - 5:00 p.m.
Wednesday, Friday | 8:00 a.m. - 5:00 p.m.
Give us 24-hour notice if you need to cancel or reschedule an appointment. Let us know as soon as possible if you expect to be late for an appointment.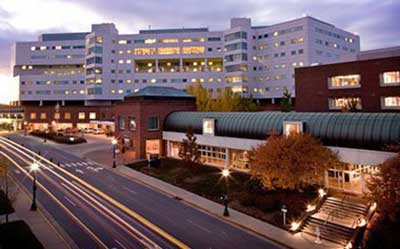 Parking: Free with validation, using your green parking ticket when you register at your appointment. Use the Lee Street and 11th Street parking garages.
Shuttle service: Runs every 30 minutes, Monday - Friday, 8 a.m. - 6 p.m. Find shuttle stop locations.
Floorplan (PDF)
Overview
Primary Care Family Medicine offers primary care for patients of all ages. Our doctors are board certified in Family Medicine and have advanced training in women's health, sports medicine and geriatrics. We offer patients convenient access to specialty care and provide care to refugees through the International Family Medicine Clinic.
We strive to keep you healthy in all aspects of your life.
Learn more about our primary care services.
Services Offered
General Healthcare
Checkups, medical exams and physicals
Care of illnesses and minor injuries
Allergy care
Immunizations
Care of chronic health problems
Medication management
Diabetes and heart disease management
Healthy lifestyle and nutrition counseling
Pre-operative evaluation
Minor emergencies
CDL exams
Hospital care for adults, children and infants
Children and Teens
Newborn care
Well-child checkups
School/behavioral issues
Assessment of growth and development
ADHD
School, sports and camp physicals
Women's Health
Gynecological services
Obstetrical care
Prenatal and post partum care
Pregnancy testing and counseling
Contraception management
Tests and Procedures
Lab tests
EKGs
Pulmonary function tests
Minor surgical procedures
Hearing and vision screening
Complex medical management
Sports medicine evaluation
Mental Health Care
Family Stress Clinic (Call 434.243.6868 for details)
Patient Information
New Patients
Call our office to make an appointment. To transfer your care, ask your current provider to fax your medical records.
Your Medications
Ask for prescription refills or renewals at the time of your visit. If you need renewals between visits, you can use MyChart. If you need to call us for a renewal or refill, we'll need the following information:
Medical record number or date of birth
Medication name and dose
How often you take the medicine
Supply needed (30 day, 90 day, etc.)
Pharmacy name and phone number
Give us two business days to call in your prescription. Medications that need insurance pre-authorization may take longer.
Lab Results
You can view your results in MyChart. If you don't have MyChart access, you'll get your results by phone or mail.