Focused Ultrasound Center
Crispell Drive
337 Crispell Dr.
Charlottesville, VA 22908
Location Hours:
Wednesday | 7:00 a.m. - 5:00 p.m.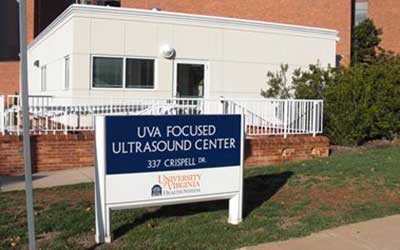 Parking: Parking is available in front of the center. Parking is also available in the Lee Street Parking Garage, which is free with validation, using your green parking ticket when you register at your appointment.
Overview
The UVA Focused Ultrasound Center is the flagship focused ultrasound center in the United States. The center is one of two centers worldwide with low- and high-frequency head and body units.
Understanding Focused Ultrasound
Want to know more about how it works and why it's used? View the illustrated overview.
Uterine Fibroids
Focused ultrasound is FDA-approved for the treatment of uterine fibroids (small, benign tumors). This technique uses multiple waves of ultrasound to deliver targeted treatment with no anesthesia and little discomfort.
Patient Information