High Risk Pancreatic Cancer Clinic
Location Hours:
Thursdays and Fridays | 8:30 a.m. - 4:00 p.m.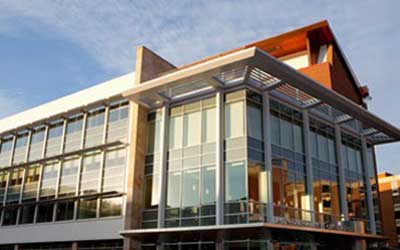 Parking: Free with validation, using your green parking ticket when you register at your appointment. Use the Lee Street Parking Garage directly across the street from University Hospital and Emergency Department.
Floorplan (PDF)
Overview
Our High-Risk Pancreatic Cancer Clinic is one of the first programs in the country that screens patients with key risk factors for the pancreatic cancer.
Monitoring these high-risk patients will help us over time to determine and refine screening guidelines so that we can catch pancreatic cancer earlier and save more lives.
But how do you detect pancreatic cancer if there aren't any early symptoms?
It's important that patients with certain risk factors get screened because we know their odds of getting pancreatic cancer are higher. Through screening, we may be able to see cancer before typical symptoms (weight loss, abdominal pain and jaundice) appear.
Learn more about our pancreatic cancer program.
Screening
Screening for Pancreatic Cancer
During screenings at the High-Risk Pancreatic Cancer Clinic, your healthcare provider will:
Perform a comprehensive physical exam
Obtain a detailed family and personal history
Discuss behavioral risk factors like smoking, alcohol use and poor nutrition
Perform genetic testing, if applicable
The screening may also include advanced tests to detect pancreatic cancer:
Endoscopic ultrasound (EUS), the most accurate test available to detect pancreatic cancers, where doctors use a small, flexible tube to look for lesions on the pancreas
High-resolution pancreatic MRI (magnetic resonance imaging)
If we find early-stage pancreatic cancer, patients can have surgery to remove the cancer. Patients without signs of cancer are scheduled for follow-up screenings in the pancreatic clinic.
Pancreatic Cyst Clinic
We're one of the first programs in the country to offer a clinic dedicated to the detection and treatment of pancreatic cysts.
These cysts, some of which can develop into pancreatic cancer, are treatable if diagnosed early. While the presence of a pancreatic cyst does not necessarily mean you'll develop pancreatic cancer, it can increase your risk. It's important to see a specialist to determine if you are at increased risk.
Pancreatic Cysts: How Are They Found?
Pancreatic cysts are usually asymptomatic, meaning you probably won't be able to tell if you have one. Most patients' cysts are found during X-rays of their abdomen for unrelated causes. If you do have symptoms related to a cyst, they may include nausea, vomiting and abdominal pain.
Pancreatic Cyst Treatment
If your cyst is benign and not causing health issues, your doctor may recommend regular follow-up and continue to monitor the situation. For painful or potentially cancer-causing cysts, your doctor may decide that surgery to remove the cyst is the best option.