Neurocognitive Assessment Lab
West Complex
Barringer IV, Room 4472
1300 Jefferson Park Ave.
Charlottesville, VA 22908
Location Hours:
Monday - Friday | 8:00 a.m. - 4:30 p.m.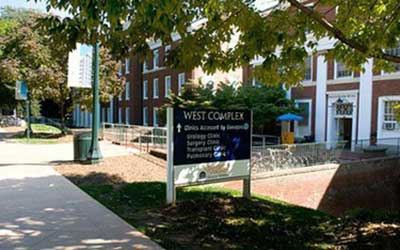 Note: Input West Complex for Google Maps and some GPS devices.
Parking: Free with validation, using your green parking ticket when you register at your appointment. Use the Lee Street and 11th Street parking garages.
Shuttle service: Runs every 30 minutes, Monday-Friday, 8 a.m. - 6 p.m. Find shuttle stop locations.
Drop-off locations: Patients can be dropped off in front of the West Complex off Jefferson Park Avenue.
Overview
At the Neurocognitive Assessment Lab, we see adults and adolescents ages 14 and up. We provide specialized evaluations for patients with brain injuries and measure your cognitive and behavioral strengths and weaknesses.
The lab specializes in assessing the neurocognitive aspects of disorders such as:
Sports-related concussion
Central nervous system infection
Substance abuse
Mild age-associated memory impairment
Seizure disorders
Stroke
Attention deficit and hyperactivity disorder
Closed head injury and other neurologic trauma
Learn more about available services at our Neurosciences and Behavioral Health Center.