Pain Management Center
Fontaine Research Park
Third Floor
545 Ray C. Hunt Dr.
Charlottesville, VA 22908
Location Hours:
Monday - Friday | 8:00 a.m. - 5:00 p.m.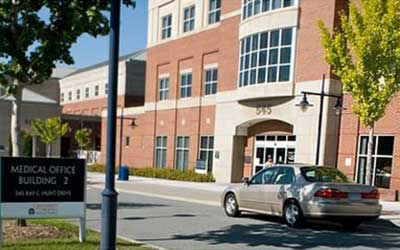 Parking: Free for patients and visitors.
Shuttle service: Runs every 30 minutes, Monday - Friday, 8 a.m. - 6 p.m. Find shuttle stop locations.
Note: Clinic registration is on the first floor.
Overview
The Pain Management Center helps minimize your pain and restore your quality of life by maximizing your level of function and independence.
Our team includes specially trained staff in nursing, psychology, social work, anesthesiology, pain, neurology and physical rehabilitation. All of our doctors are trained and certified in pain management.
Learn more about our pain management services.
Types of Pain & Treatment
Types of Pain Treated
Spinal pain

Low back pain
Neck pain
Herniated disks

Complex regional pain syndrome (RSD)
Head and facial pain
Pelvic and abdominal pain
Cancer pain
Post-surgical pain
Pain Management Therapy Options
Pain Medications
Recommend medications for your referring doctor or primary care doctor to prescribe

Pain Psychology
Pain-coping skills
Cognitive behavioral therapy for pain
Self-regulation, including breathing techniques and meditation
Spinal Treatments
Epidural steroid injections
Medial branch blocks (spinal injections) and radiofrequency ablation procedure
Intradiscal procedures (uses electrical and radiofrequency energy to create heat to treat pain)
Discography
Radiofrequency ablation
Sacroiliac joint injections
Pain Blocks
Peripheral nerve blocks:

Occipital
Supraorbital
Intercostal
Blocks for complex regional or cancer pain:

Stellate ganglion blocks
Celiac plexus blocks
Lumbar sympathetic blocks
Ganglion impar blocks (pelvic pain)
Neuromodulation
Spinal cord stimulation (small electrodes are used to interrupt the transmission of pain)
Intrathecal pumps (used for cancer and spasticity)
Support Group
Pain Management Education and Support Group
Includes guest speakers and educational topics, as well as group discussion.
Topics include:
Depression
Yoga
Meditation
Guided imagery
Back training
Nutrition
Therapeutic movement
Who: Open to anyone experiencing chronic pain (you don't need to be a UVA patient)
When: 2nd and 4th Wednesdays, 9-10:30 a.m.
Where: 545 Ray C. Hunt Drive, Fontaine Research Park, second floor conference room
Cost: Free
Questions? Call 434.243.5676