Pediatric Otolaryngology
Location Hours:
Tuesday - Wednesday | 8:00 a.m. - 5:00 p.m.
Friday | 8:00 a.m. - 12:00 p.m.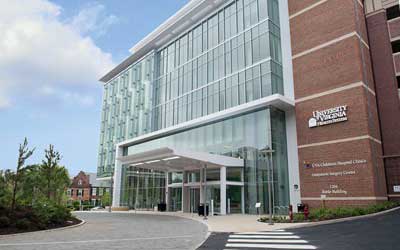 Parking: Free for patients and visitors.
Park in the 11th Street Garage.
Enter the Battle Building on Level C.
Overview
We provide comprehensive ear, nose and throat (ENT) care for children with problems of the head and neck, from the most common to the rare and complex.
We offer special expertise in:
Airway disease
Chronic and recurrent sinusitis
All types of ear conditions, including congenital and acquired hearing loss
Obstructive sleep apnea
Tumors (both benign and malignant) of the head and neck
Speech and language problems
Treatment of breathing and swallowing disorders
Hearing Tests
Behavioral audiometry
Auditory brain stem-evoked response testing (ABR)
Otoacoustic emissions
Hearing aid evaluations
Learn more about our pediatric ENT services.
Conditions Treated
Vocal/larynx Conditions
Laryngomalacia
Subglottic stenosis
Vocal cord paralysis
Laryngeal webs
Laryngeal cysts
Recurrent respiratory papillomatosis
Croup
Stridor
Chronic cough
Hoarseness
Esophagus/breathing Conditions
Gastroesophageal reflux
Foreign body removal
Other breathing and swallowing disorders
Sinus Conditions
Allergic rhinitis
Chronic and recurrent sinusitis (sinus infection)
Ear Conditions
Congenital and acquired hearing loss
Cholestreatoma
Typanic membrane (eardrum) perforations
Communication Disorders
Speech and language problems
Velopharyngeal insufficiency