Pulmonary Hypertension Clinic
University Hospital
Second Floor
1221 Lee St.
Charlottesville, VA 22908
Location Hours:
Tuesday | 12:00 p.m. – 4:00 p.m.
Friday | 12:00 p.m. – 4:00 p.m.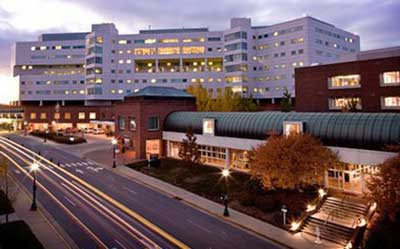 Parking: Free with validation, using your green parking ticket when you register at your appointment. Use the Lee Street and 11th Street parking garages.
Shuttle service: Runs every 30 minutes, Monday-Friday, 8 a.m. - 6 p.m. Find shuttle stop locations.
Floorplan (PDF)
Overview
We offer a full range of treatments and diagnoses related to the management of pulmonary hypertension. We are one of the few clinics in Virginia offering treatment with oral, inhalation and intravenous therapies for disease management.
We evaluate and treat patients with idiopathic pulmonary hypertension or pulmonary hypertension caused by:
Sarcoidosis
HIV/AIDS
Connective tissue disorders
Portal hypertension
Congenital heart disease
Drug or toxin-induced hypertension
Interstitial lung disease
Other disease processes
Our Team
We are a collaborative clinic involving both a cardiologist and pulmonologist. We also coordinate with a number of diagnostic groups at UVA, including the Echocardiology Lab, the Cardiac Catheterization Lab, the Pulmonary Function Lab, radiology and nuclear medicine.
Nutrition Counseling
We offer counseling from a registered dietician. If interested, ask your doctor or nurse to refer you. Same-day appointments may be available.
Learn more about our pulmonary services and our cardiovascular services the Heart and Vascular Center.
Patient Information
Medication Refills
You can call 434.243.1000 for help in refilling a prescription.
Lab and Test Results
You can view your results in MyChart. If you don't have MyChart access, you'll get your results by phone or mail.