Endocrinology Pantops
Suite 2
199 Spotnap Rd.
Charlottesville, VA 22911
Location Hours:
Monday-Friday | 8:00 a.m. - 5:00 p.m.
Clinic Has Temporarily Moved
Due to recent flooding, we're seeing patients at the UVA Primary Care Riverside clinic. Our phone number and clinic hours remain the same.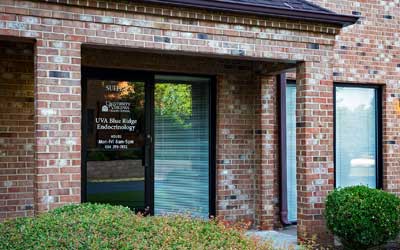 No parking information to display.
Overview
UVA Endocrinology Pantops provides care for a wide variety of endocrine diseases, including diabetes, osteoporosis and disorders of the thyroid, adrenal, pituitary and reproductive glands.
Please allow 48-hour notice when cancelling or rescheduling an appointment.
Learn more about managing diabetes, hormones and metabolism.