UVA Orthopedics a Department of Novant Health UVA Health System Culpeper Medical Center and UVA Surgical Services a Department of Novant Health UVA Health System Culpeper Medical Center
Suite 305
541 Sunset Ln.
Culpeper, VA 22701
Location Hours:
Orthopedics
Monday - Thursday | 8:00 a.m. - 5:00 p.m.
Friday | 8:00 a.m. - 4:30 p.m.
Surgical Services
Monday - Thursday | 8:00 a.m. - 5:00 p.m.
Friday | 8:00 a.m. - 4:30 p.m.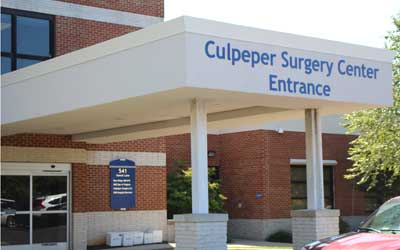 Parking: Free for patients and visitors.
UVA Orthopedics Culpeper
UVA Orthopedics Culpeper provides care for conditions affecting the joints, muscles and bones, including:
Hip, knee and shoulder arthritis (joint replacements)
Rotator cuff tears, labral tears and shoulder instability
ACL and meniscus tears, ligament tears and knee injuries
Carpal tunnel, trigger finger, cubital tunnel and other hand/wrist conditions
Fracture care and repair
Adult and pediatric spine conditions
Our physicians provide both surgical and non-surgical treatment specific to your condition. Surgery, rehabilitation and postoperative follow-up visits are performed at Culpeper Surgery Center and Novant Health UVA Health System Culpeper Medical Center.
UVA Prosthetics and Orthotics, an on-site clinic, helps supply braces and aids on a needed basis.
Learn more about our orthopedic services.
UVA Surgical Services Culpeper
UVA Surgical Services in Culpeper offers quick access to surgeons specializing in a variety of conditions. The convenient location offers you access to UVA Health System specialists in the comfort of your community.
Services offered:
Appendectomy
Bowel obstruction surgery
Breast surgery, including high-risk patients
Colonoscopy
Gallbladder surgery
Pre-surgery care to post-procedure follow-up
Other in-office procedures
We participate in most major insurance plans, including Medicare. We also accept all major credit cards.
We ask that you make any required payments at the time of your visit.
You'll receive a reminder letter two weeks before your scheduled visit. Please let us know 24 hours ahead of time if you can't make your appointment.
Learn more about our surgical services.