Vascular Surgery Clinic
Location Hours:
Monday - Friday | 8:00 a.m. - 4:30 p.m.
We see patients on a referral basis and will contact you after we receive a referral from your doctor.
Give us 24-hour notice if you need to cancel your appointment.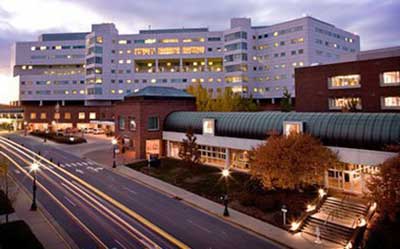 Parking: Free with validation, using your green parking ticket when you register at your appointment. Use the Lee Street and 11th Street parking garages.
Shuttle service: Runs every 30 minutes, Monday-Friday, 8 a.m. - 6 p.m. Find shuttle stop locations.
Overview
The Vascular Surgery Clinic at UVA's Heart and Vascular Center offers compassionate and comprehensive care from some of the best doctors in the country.
If your doctor determines that your vasculardiagnosis requires surgery, you should know that our doctors have the expertise that comes with performing more than 900 vascular procedures a year.
We're also experts in the latest minimally invasive techniques for treatment of aneurysms.
Conditions Treated
Aortic Disease
Coarctation of the aorta
Marfan syndrome
Ehlers-Danlos syndrome
Traumatic aortic aneurysm
Arteritis (inflammatory)
Aortitis (mycotic)
Takayasu's arteritis
Infected aortic grafts
Arterial Disease
Peripheral arterial disease
Vasculitis
Innominate artery disease
Carotid artery disease
Transient ischemic attacks
Visceral (mesenteric) arterial disease
Arterial dissections
Fibromuscular dysplasia
Subclavian (steal) artery disease
Compression Disorders
Thoracic outlet syndrome
Median arcuate ligament syndrome
Popliteal entrapment
Adventitial cystic disease
Venous and Related Disease
Varicose veins
Deep vein thrombosis

Vascular

malformations
Lymphedema
Venuous insufficiency
Sports Related
Vascular

Conditions
External iliac arteriopathy
Effort vein thrombosis
Aneurysms
Femoral
Popliteal
Iliac
Subclavian
Abdominal
Visceral
Thoracic aortic (ascending, descending and arch)
Thoracoabdominal
Suprarenal
Treatments
Angioplasty/stenting of peripheral, carotid, mesenteric, and renal arteries
Aortic stenting
Carotid endarterectomy
Complex venous reconstruction
Endo

vascular

aortic aneurism repair
Endovenous laser ablation therapy
Hemodialysis access
Ligation and stripping of varicose veins
Lower extremity bypass grafts
Microphlebectomy of secondary veins
Repair of blocked or torn arteries
Surgical aortic repair
Thrombolysis and thrombectomy
Learn more about our Heart & Vascular Center.
Patient Information
On the day of surgery, you'll check into the Surgical Admissions Office on the first floor of University Hospital. Your family will be able to wait for you on the fourth floor in the family waiting area, and our doctors and nurses will keep them informed of your progress during and after your procedure.
Your Medications
Call us for prescription refill requests.
Lab and Test Results
You can view your results in MyChart. If you don't have MyChart access, you'll get your results by phone or mail.