Virginia Driver Safety Laboratory
West Complex
Barringer IV
1300 Jefferson Park Ave.
Charlottesville, VA 22908
Location Hours:
Monday - Friday | 8:00 a.m. - 4:30 p.m.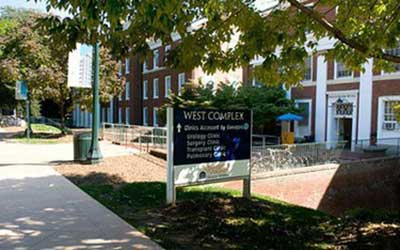 Note: Input West Complex for Google Maps and some GPS devices.
Parking: Free with validation, using your green parking ticket when you register at your appointment. Use the Lee Street and 11th Street parking garages.
Shuttle service: Runs every 30 minutes, Monday-Friday, 8 a.m. - 6 p.m. Find shuttle stop locations.
Drop-off locations: Patients can be dropped off in front of the West Complex off Jefferson Park Avenue.
Floorplan (PDF)
Overview
Provides comprehensive driving assessments for aging drivers — especially those with degenerative diseases such as Alzheimer's or Parkinson's — and people with cognitive or physical limitations following stroke or traumatic brain injury.
Service include:
Vision testing
Tests on driving knowledge
Evaluations of coordination and reasoning
Driving simulator test
Therapy for road rage and driving-related phobias
Reports are not sent to the Virginia Department of Motor Vehicles unless requested by the patient.
Learn more about our services at the Neurosciences and Behavioral Health Center.